In case you missed it, 2020 doesn't have much regard for your plans or ours! As we begin our 2020-21 Season of Character, we want to outline what's on the horizon for the fall and what changes we have had to make.
Elm Street has made the following changes to its programming:
We have been informed that someone involved in the production of Alice in Wonderland Jr. has tested positive for COVID-19. Please know that we have taken great care and precaution in keeping the building clean and sanitized during and after every rehearsal and continued use of masks whenever in the building since we re-opened in May. In order to ensure the health and safety of our students, parents, volunteers, guests, and staff, ALL of the staff, cast, and creative/production team will be tested before moving forward with the production. Additionally, we will be conducting a deep clean of the building prior to the production resuming and have been in frequent communication with the Georgia Department of Public Health to ensure we are taking the necessary steps to move forward safely.
Due to the loss in time for finishing the production, we do not foresee being able to perform the show this weekend as originally scheduled. We are planning to postpone the show to next weekend, November 20th-22nd, pending comfort and safety from the cast, team, and parents. All ticket buyers have been informed of this change via email this morning.
Thank you very much for your care and support. We hope that we can safely return and continue this production as soon as we are all able to. We will continue to keep you updated and look forward to sharing this story safely.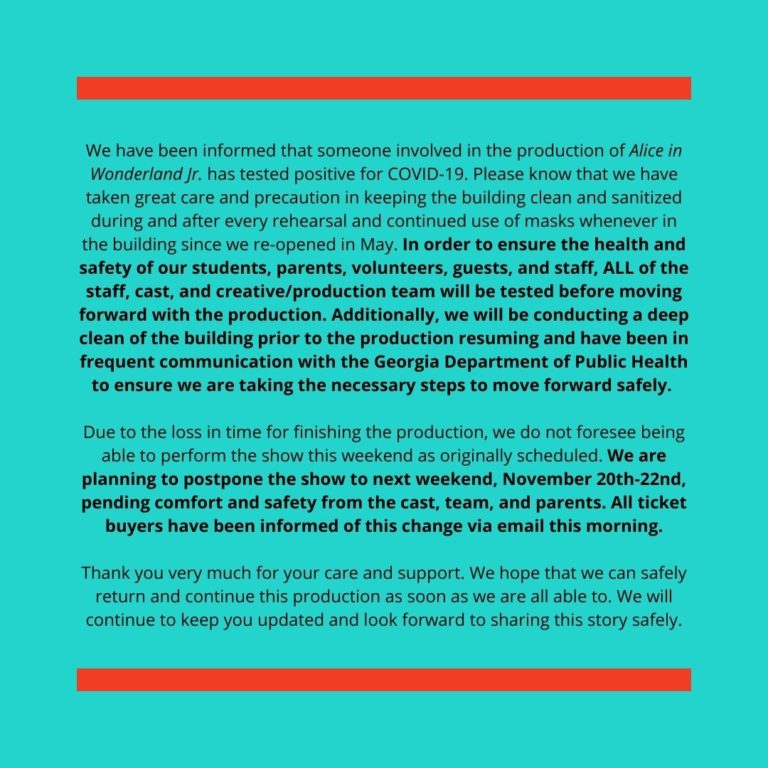 One of the reasons we produce theatre is to build community as well as conversation and while this year has been eventful to say the least, we have a few fun surprises for our 2020-21 Theatre Season of Character that we've been dying to tell you! One of our productions planned for the fall has to be postponed in order to produce safely and well BUT we have three special events lined up to continue safe and fun arts experiences!
The Lantern Series was designed to bring community and conversation around different cultures as well as styles of music and we are proud to be kicking off our 3rd Season soon, with a few fun surprises! A few of our concerts planned for the fall have to be pushed to the spring of 2021 for artist comfort & current EU travel restrictions BUT we have three extra concerts lined up to continue building community through live music!
Here's what you need to know:
Crystal Bowersox ➡️  5/1/21
JigJam ➡️  5/22/21
VoicePlay ➡️  4/17/21
NEW Landscape of Guitar added for 9/19 *Returning from our Inaugural Season*
The Black Market Trust ➡️  9/25/21
NEW Fireside Collective added for 9/26
We Banjo 3 ➡️  10/16/21
NEW Sammy Rae & The Friends added for 10/17
If you already have tickets, they will automatically be transferred to your new date(s).
These were not easy decisions to come to, as so many of our community members are impacted by the arts.
However, we are all about community and will continue to act in the best interest of our guests. These are the steps we have taken:
We are contacting all ticket buyers explaining the situation and have offered options to either exchange or donate the value of their ticket(s) as a tax-deductible donation
If you have any questions (and for fastest answers), please email info@elmstreetarts.org.
As a 501(c)(3) nonprofit organization, we rely on a combination of ticket sales and donations to be able to provide a wide variety of arts programming to our community and ask that you consider a tax-deductible donation to allow our programming continue.
We will continue to provide updates on how the outbreak impacts the rest of our programming and are so appreciative of your support and understanding during this time and love the community we get to be a part of with you! We hope to see you out on The Green this fall for a safe, socially distanced, and fun outdoor concert or theatrical experience! 
COVID-19 Ticket Policy
As you make your personal decisions around your visit to Elm Street please be aware of our ticket policies.
Exchange: Contact the Box Office to exchange your tickets for another performance date or for a return visit later in the season (subject to ticket availability). All exchanges are based on the value of your original tickets.
Donate: Show your support for the power the arts can have in a community and donate the value of the tickets back to Elm Street, which is a 501(c)(3) nonprofit organization. Your support is important to our ongoing ability to produce impactful and relevant art in our community.
Please call the Box Office at 678-494-4251 should you have any questions.
This post is the most recent information available. Programming concerning other events previous or during this time may be found in this recent post. However at this time, future programming not mentioned in this post is still planned. We will continue to keep a close watch on the situation as it develops. Thank you for your understanding.