We take comedy *very* seriously here at Elm Street.  Comedy introduces people to something theatrical in a fun way – whether that's through improvisation where a suggestion gets brought to life on the fly or through scripted stand-up which still relies on listening and reacting to your audience!
Because we think laughing is so important these days, we've expanded our comedy offerings to include our monthly iThink Improv Troupe shows AND a brand-new monthly comedy series collaboration with Jessica It's All Good, The Lasting Laugh! Check out what's coming up that you can enjoy safely spaced out or from home!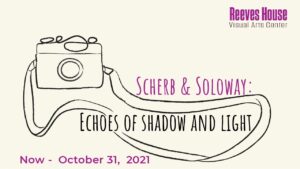 A duo exhibit in the Reeves House featuring fine artists and photographers Erik Scherb and Madeleine Soloway.
Read More »