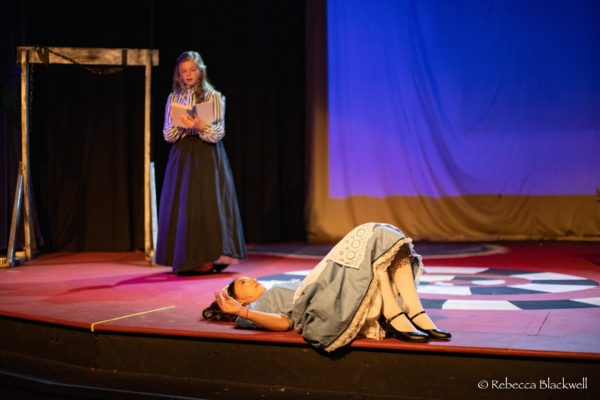 Let's be honest, this past year has been different. And as a non-profit performing arts organization, it has been difficult to not be able to hold events with our community. But we quickly adapted, wanting to bring community and arts experiences together in whatever way we could. Education has been part of our roots at Elm Street even before we were known as Elm Street! A program that has developed and grown over the years is Spotlight – our student productions where the next generation of artists get to dive right in and experience what it takes to put on a theatrical endeavor (with the help of some talented adult mentors, of course!)
When we set out to do Alice in Wonderland Jr. in November, we had no idea just how much our 3rd-8th grade cast would learn. Sure you had blocking, choreography, character development, as well as teamwork, but our students got first-hand experience on how the world of theatre continues to change and adapt to the world around us. They rose to the task of a condensed rehearsal schedule, learning and reviewing material online, and following safety procedures to put on a wonderful musical about discovering who you are and your place in the world. We couldn't be prouder, and we think the sentiment was shared by our dedicated Spotlight Parents too!
"You all are amazing! You were amazing before the pandemic and you've provided the outlet necessary during the pandemic. We have a high-risk multi-gen household and chose to minimize risk by having our kids do digital learning. This comes at a cost and we quickly realized they needed something to help with social emotional and mental well-being, but that would still help with minimizing exposure. We chose Elm Street and we felt comfortable knowing the precautions that were taken. Thank you!"
B.B.
"My child would like to be in one alllll the time if we could make that happen. She had the best time ever."
M.E.
"This was a great group of kids. The play was so much fun!"
J.O.
"My son loves Elm Street! It was awesome!"
D.T.
"Amazing! The kids clearly worked so hard and learned so much in a short period of time. Kudos to the entire organization for the effort and thought put into keeping the kids safe during this time. I was never once concerned that she wouldn't be taken care of during this entire process. She continues to learn so much from the Elm Street activities. Specifically, she learned about stage presence and projecting your voice. She also learns a great deal through the file modeling of the older, more experienced kids."
K.P.
Our Spotlight students are the faces of the Collage Series and the caliber of Elm Street's educational programming. Take a look at some upcoming opportunities for your child to get involved!