Coded Realities: Art + Tech
Gallery Hours:
Mon 8am – 3pm
T-Th 8am – 8pm
Fri-Sat 8am – 9pm
Sun 9pm-6pm
Price: FREE
Featured Artists:
Alan RATH
Jim CAMPBELL
Laurie FRICK
Brian ALEXANDER
Owen MCATEER
William PAPPENHEIMER
Media Credit:
Alan Rath, Positively, 2012
Image Courtesy of Hosfelt Gallery, SF
Coded Realities: Art + Technology
Opening Reception: Thursday, February 24 @ 6pm-8pm
On View: February 24 – April 17, 2022
The Reeves House Visual Arts Center is pleased to present Coded Realities: Art + Technology, a group show featuring pioneers of new media art, alongside emerging artists, working at the intersection of art and technology. This is the first time the work of world-renowned artists Alan Rath and Jim Campbell will be exhibited in Georgia.
In our increasingly digitized world, the human and the technological have evolved into inseparable entities. The machines that we create serve as mirrors that magnify our desires and amplify our perceptions. Through the common language of code, the artworks in this exhibition interrogate the relationships between humans and the digital technologies that not only share, but also shape, our reality.
Codes are all around us. They are present in the technology we interact with on a daily basis. They are even found within the very building blocks of humanity: our DNA. In fact, the principles of DNA and software are nearly identical: they both execute programmed symbolic languages, or codes, to accomplish specific tasks. Whether referencing computer code or genetic code, the featured artists blur the boundaries between man and machine. 
As artist Alan Rath explained: "The more you study humans, the more you see that we're machines. The more you study machines, the more you see that they evolve and are undergoing this trend of greater complexity, which seems to mimic an organic evolution to a state which eventually has to be sentient." These artworks question the solidity of separation that we as humans perceive between ourselves and our electronics.
Well known as a pioneer in electronic, kinetic, and robotic sculpture, Alan RATH has been building electronic sculptures infused with uncannily life-like characteristics since the 1980s. His custom-designed robotic armatures contain algorithmically generated sequences of mechanical movements that can evolve on their own into an infinite progression of permutations. On display is one of Rath's kinetic sculptures that incorporates feathers, Positively, a fairly new feature in his work prior to his untimely death in 2020. Vibrating, quivering, and shimmying pink ostrich feathers animate Positively, an elongated sculpture with flirtatious and rhythmic movements that recall the sensuality of a burlesque performance. Despite the millions of lines of code required to animate it, the sculpture appears distinctly human and full of personality, but by consciously leaving the electronics and wiring exposed, the artist does not let us forget that we have formed a connection with a machine. His contributions to the field of contemporary sculpture and new media have received significant acknowledgement worldwide. His work is in such major collections as the SFMOMA, the Whitney Museum of American Art, the Walker Art Center, the Los Angeles County Museum of Art, and the Hara Museum, Tokyo.
A pivotal figure in the use of computer technology as an artistic medium, Jim CAMPBELL probes the limits of perception with low-resolution imagery through hand-made, LED-based sculptures that blur the line between reality and abstraction.The ample space Campbell provides between the pixels allows the viewer to extrapolate lots of meaning from very little information onto which they can project their own memories to fill in the gaps. The three pieces included in this exhibition span from his earliest experiments in low-resolution LED sculptures – Running, Falling, Cut, which utilizes only 
200 pixels compared to the 1-2 million pixels we are accustomed to seeing – to a piece from his most recent body of work – Exploded Flat 1, which whittles down the image to only the most essential pixels. Like much of Campbell's work, perception is contingent on distance and, contrary to our expectations, the closer we get to the object, the more elusive and incoherent it becomes. Campbell's work is part of numerous public collections such as the Metropolitan Museum of Art; The Museum of Modern Art, NY; Smithsonian American Art Museum; The Whitney Museum of American Art; the SFMOMA.
In Owen MCATEER's interactive artwork that you encounter when you first enter the exhibit, you both literally and metaphorically merge with the machine. The viewer's likeness is captured by a 3D depth sensing camera that reproduces their form on a flip dot matrix, a display technology created more than 50 years ago typically used on buses. As the dots softly whirr in a synchronized soft hum to recreate your reflection, the artwork announces your presence both visually and auditorily. Another piece by McAteer features generative digital animations that mesmerizingly morph cubes and lines into computer-generated geometric patterns. After setting parameters through the coding of the software, the artist is no longer in control of the outcomes – the computer becomes the artist as it autonomously generates countless unique images that are the result of chance outcomes that are unpredictable and unable to be replicated. 
Laurie FRICK uses data accrued through publicly accessible data-tracking tools to examine what we can know about ourselves, transforming bodily statistics into brightly colored paintings and wall sculptures. Her DNA maps, time tracking charts, and sleep analysis featured in this exhibit exemplify how her careful arrangements impose visual order on an overwhelming array of information and transform abstract data into something tangible and comprehensible. In contrast to the cold and sterile digital format of most data visualization, she consciously humanizes the numbers and revealed the hand of the artist through warmer, more familiar materials like handmade paper, wood, wool, and leather. Although some may worry about being tracked, the artist relishes the notion that soon we will collect every possible bit of data about us to uncover the secret to understanding who we are. 
Brian ALEXANDER's work focuses on the unseen and unheard. His work in the exhibition focuses on the fragility of memory (49 Moons), and the ways in which technology can aid or impair our experiences (Acquisition Void). His ambivalence about the human experience as mediated through technology is persistently present in his work. 
William PAPPENHEIMER collages the virtual and physical worlds in an Augmented Reality application on display in the gallery. Through the lens of an ipad, the Painter AR app series transforms the viewer's surroundings by covering them with a patterned skin designed
by the artist.
Curator: Nicole Lampl, Director at the Reeves House
Reeves House Visual Arts Center
734 Reeves St, Woodstock, GA 30188
We're excited you've decided to join us. We've got some tips, suggestions, and recommendations to make your first time visit an excellent experience.
If you have any questions, please let us know.
Thank you to our partners, donors, and supporters like you who made building the Reeves House possible. This is a true community project and we can't wait for you to create memories and moments in the Gallery, classroom, as well as coffee shop/wine bar. 
John Wieland, a legend for building homes in the Atlanta area, is also an avid art collector, enthusiast, and supporter. When he heard about the Reeves House project he quickly offered his cornerstone support in building the project at cost.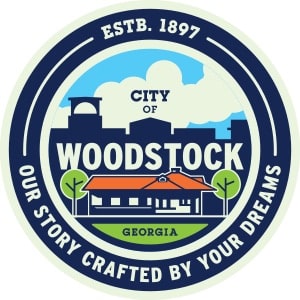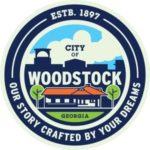 A long-time partner with Elm Street, The City of Woodstock provided crucial support early in the project. The Parks & Recreation Impact Fees used to help with the cost of construction paved the way for other supporters to join the efforts and make this a true community project to add to the quality of life through the arts. 
We've received several generous gifts from private foundations. While many gifts prefer to remain anonymous, the Rucker-Donnell Foundation, a national foundation, has participated to encourage other foundations to consider gifts toward this project.
Thank you to ALL of the private foundations that have provided gifts to make this important community project possible.
Moen  |  Schlag  | Lennox  |  Edwards Heating and Air – Michael Edwards  |  Sherwin Williams  |  Progressive Lighting |  Shaw Industries Group  |  Builder's First Source – Jeff Marcus  |  Brand Vaughn – John Donkar  |  James Hardie Siding  |  EJ Trim – Matt Johnson  |  YKK AP  |  KCO – Alan O'Rouke  |  Ferguson – Joe Brown  |  Idelwood Interiors – Marty DeStefano  |  FC Landscaping – Fernando Chavarria
We can not thank you enough! Our individual donors truly make this project possible. So many of you have given over the years toward the vision of a better community through the arts. Even more, so many of you continue to give or have pledged to give, this has made all of the difference. In the end, this place is not just the rebuilding of a historic house, but a home for us all. You have made that possible. Thank you!