Inside the Gallery or on Front Porch (depending on weather)
The Science and Art of Roasting Coffee
Roasting coffee is as simple as adding heat to coffee beans for a specific period of time and yet there is immense complexity in what kind of heat, for how long, and what all of that does to the coffee bean itself. Come prepared to learn about how coffee is roasted with scientific precision and artistic creativity and discover how roasting affects your daily cup of Joe.
About the Speaker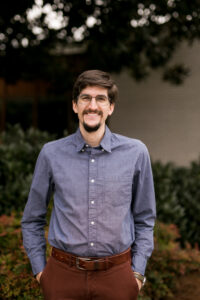 Tim Whitson was the Head Roaster at Firelight Coffee and recently moved into the position of Director of Coffee. His expanded role includes managing the roasting team, sourcing coffees, and making sure that quality and sustainability standards are met. Tim has a passion for coffee that has grown out of his experience traveling the world and encountering how this unique beverage brings people together – whether it's in a cafe over a cup of freshly brewed coffee or across the world as farmers partner with importers and roasters to make coffee accessible to us all.

Firelight Coffee was started in 2014 by two good friends with a goal to make specialty coffee open to everyone. Firelight's focus has remained constant with a focus on sourcing the best and most interesting coffees and making them accessible to anyone, not just coffee aficionados. Every coffee Firelight buys has an expanding set of benchmarks we check for around environmental sustainability, equitable trade and farming, community impact, and more. Looking ahead, Firelight plans to grow their presence by partnering with more amazing wholesale partners and cafes, while continuing to give the best coffees and value to our subscribers and online community.
This event is free to the public and will takes inside the gallery. RSVP'ing is encouraged to give us an idea of how many visitors to expect.
Reeves House Visual Arts Center
734 Reeves Street, Woodstock, GA, 30188, United States
We're excited you've decided to join us. We've got some tips, suggestions, and recommendations to make your first time visit an excellent experience.
If you have any questions, please let us know.