Education Studio inside the Reeves House
Every first Friday, we hold an Opening Reception for a local artist whose artwork is on display in the Reeves House Education Studio.
Come meet the artist behind the artwork on display while sipping a glass of wine and swaying to some live music at the Opening Reception on Friday, July 7th 6-9 pm.
ABOUT THE ARTIST
Siobhan Brumbelow @brumbydoodles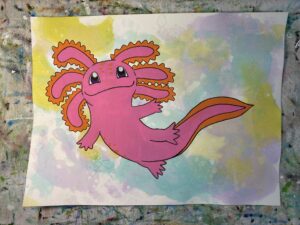 Siobhan Brumbelow, local crafty mom, previously worked at Woodstock Arts (Elm Street) theatre as an educator, director, choreographer, scriptwriter, camp counselor, prop artisan, scenic painter, and actor for almost 20 years. She's happily married and has two kids Maggie (10) and Roland (5). In the past couple of years, she has further embraced her love of crafting—painting, drawing, making–with her children. They inspire her to create new art by using their ideas and pictures to encourage them that "there are no mistakes in art and what you create". The pieces within this exhibit have all been created with her children's artwork and ideas.
Reeves House Visual Arts Center
734 Reeves Street, Woodstock, GA, 30188, United States
We're excited you've decided to join us. We've got some tips, suggestions, and recommendations to make your first time visit an excellent experience.
If you have any questions, please let us know.